How Eli "Works" at James River Wealth Advisors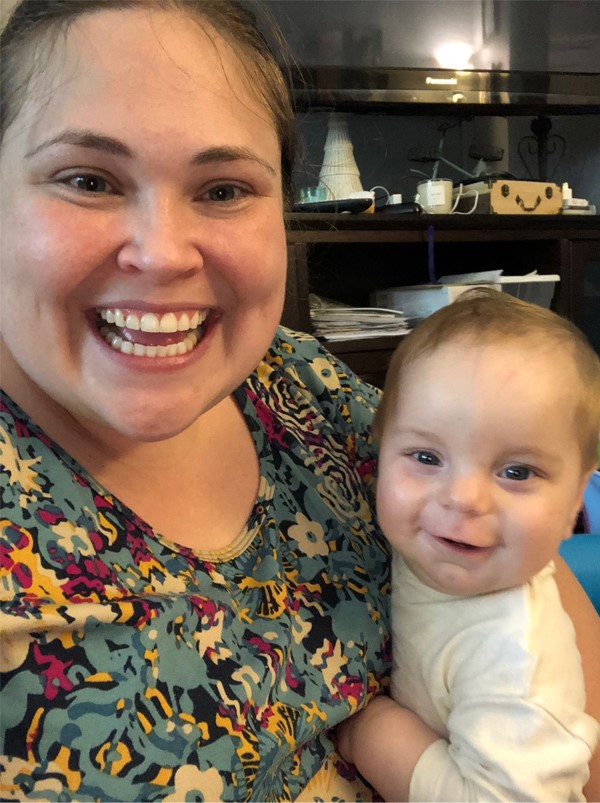 ​Hi there! My name is Heather and I want to tell you about something really cool going on behind the scenes at James River!
If you were to walk into our office and go down the hall a bit (pre-social distancing of course), you would find several office rooms filled with team members who help keep JRWA running….there's Chuck, Al, Kristin, Keri, Sally and Fletcher…..but my absolute favorite team member's room is Eli! Have you heard about Eli yet? Eli is THE coolest, smiliest, MOST AMAZING baby ever! And guess who gets to share an office room with him?!— ME! I get to share a room with him because I was lucky enough to be chosen as his nanny! I feel so fortunate!
I'm sure you're asking yourself why a baby and his nanny have an office at a financial planning company, right?! Great question—thankfully, I have an even better answer!
When Eli's Mom, Kristin, was asked to join the James River Wealth Advisors team last summer, she was pregnant with Eli. She was excited about the possibility of working with such a great company but was not sure it was going to work once Eli was born. See, when Kristin was only 19 weeks pregnant, she found out that Eli has a very rare disorder—Agenesis of the Corpus Callosum. (If you have not already, you should check out the video to hear more of Kristin's story).
Fast forward a few months and James River had already suggested to Kristin that if she decides to come work for the company, she could bring Eli with her and hire a nanny to care for him at the office! What company does that?! Seriously, do you know of any other company who has done that? I certainly do not! I cannot think of a better way to show a working mom how much a company values her than to put her needs, and her family's, before their own! JRWA did what [I believe] more companies should do, because ultimately supporting a working mom increases her productivity and company morale as a whole.
Because of James River's support, we are all thriving! Kristin LOVES what she does, and I LOVE what I do, and Eli LOVES having his Mommy close by to nurse when he wants!
JRWA and Kristin allowed me to take a standard room in the office and turn it into an amazing playroom and nursery for us to use each day! We have books and toys and music and mirrors! We have a stroller we keep at the office to go on walks, we have a highchair in the lunchroom so we can all eat together, and we even have foam flooring in our room!! On top of all of those amazing things, Eli's therapists come to the office for his sessions each week—this allows Kristin the opportunity to join us between meetings to connect with his therapists, too!
Everyone at the office is in full support of our unique arrangement! It's not unusual for me to bring Eli into a staff meeting for Kristin to nurse him, or for her to come see us after a meeting is over. The beauty of James River's openness to have Eli at the office is that it's given Kristin the ability to watch her baby grow while being an integral part of the day-to-day success of the company. And it's given me the opportunity to feel a part of a bigger team—which is rare in my profession. JRWA has also given me the green light to bring some extra fun and excitement to the office (I'm a nanny after all!)! I've been able to plan monthly team lunches for us all to connect, I was given permission to take on birthday and welcome celebrations for the office…..balloons, banners, warm chocolate chip cookies, games and more! Most recently I started a gratitude bulletin board in the kitchen. We all know that being thankful is beneficial, but how often do we stop to reflect on what we are thankful for at our place of work? It's these little things that I have been able to do that fill my bucket in unexpected ways.
I am so thankful for James River's belief in Kristin and the value they know she brings to the table, and I am even more grateful that they believe in the power of supporting a working mom. I am also extremely thankful that Kristin chose me of all people to walk this journey with her! As for Eli, well, that sweet baby boy quickly nuzzled his way into my heart and we have become the best of friends! I pray this special connection of ours lasts a lifetime!
All of 'this' behind the scene stuff is what has really proved to me that James River walks the walk that they say they do—I get to see it first-hand! There is no doubt in my mind that God has had His hand all over the orchestration of this coming and continuing to be.
DISCLOSURES
The material contained in the 'Market Commentary' is for informational purposes only and is not intended to provide specific advice or recommendations for any individual nor does it take into account the particular investment objectives, financial situation or needs of individual investors. The information provided has been derived from sources believed to be reliable, but is not guaranteed as to accuracy and does not purport to be a complete analysis of the material discussed, nor does it constitute an offer or a solicitation of an offer to buy any securities, products or services mentioned. Past performance is not indicative of future results. Diversification cannot assure profit or guarantee against loss. Performance of an index is not illustrative of any particular investment. It is not possible to invest directly in an index.
James River Asset Management, LLC is a Registered Investment Adviser. Securities offered through ValMark Securities, Inc. Member FINRA, SIPC 130 Springdale Drive, Suite 300 Akron, Ohio 44333-2431 1-800-765-5201.  James River Asset Management is a separate entity from ValMark Securities, Inc.

Bridging where you are to where you want to be through timeless financial advice / Contact us today to get started!
Securities offered through J.W. Cole Financial, Inc (JWC) Member FINRA/SIPC. Advisory Services offered through James River Asset Management LLC. James River Wealth Advisors and James River Asset Management LLC are unaffiliated entities of J.W. Cole Financial.
Certified Financial Planner Board of Standards, Inc. (CFP Board) owns the CFP® certification mark, the CERTIFIED FINANCIAL PLANNER™ certification mark, and the CFP® certification mark (with plaque design) logo in the United States, which it authorizes use of by individuals who successfully complete CFP Board's initial and ongoing certification requirements.
Our site contains hyperlinks to other web sites operated by third parties. These links will take you away from our site. Please note that we do not guarantee the accuracy or completeness of any information presented on these sites.